AFPF Gallery
Bluebird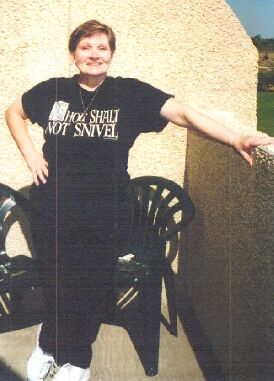 This picture was taken on the very last day of my trip to Kingston, Ontario this past September. This was my first outing other than doctor appointments or Cancer Camp in almost three years !!!!!! It's taken on the balcony of our hotel room ( mine and the gal friend from Denver, Co who made it possible for me to take the trip !! ). It's handy that there happens to be a balcony railing. This made it possible for me to stand and have a picture taken of me out of the scooter and with no quad cane !!!!! I'm planning to write a journal of the trip when my energy comes back enough to do so.
I'm 57 ( just barely &lt g &gt) and live in Northern Alabama with my Amazon parrot, Rio and my two cats...... Tawny, the male lap cat and Lady Bug my disabled cat ( only has 3 legs due to an accident before I got her). She's my inspiration.
I guess that I'd have to say I have two "hobbies". The computer and just plain 'ole enjoying life. It still amazes me how I can have 24 hours each day pretty much to myself and I still never have enough time to enjoy all I want to enjoy. I have one son, Dan... age 35. His wife's name is Kelly and she recently ( 11-23-99) presented me with a grandson, Eric Richard ( after his uncle Rick). First grandson. Dan says last one. They also have a daughter, Samantha Jo, who was 3 on 10-26-99. Dan also has a daughter, Amber who will turn the big 16 next April 12th. I have an adopted daughter, Jody,29. I don't know just where Jody is. &lt S &gt My oldest son, Rick, was killed in May of 97 in a motor cycle accident. He was 34 at the time. He loved life and really lived it to the fullest. That's part of my reason for my zest for life..... I'm living his zest and mine !!!
Cheryle (aka BlueBird)
---
Posted 12/7/99